Since January, Barbie has been the talk of the town, with close to half a million articles dedicated to her. Remarkably, only 1.4% of these articles focused on the Barbie movie itself. Instead, the majority delved into the ingenious marketing efforts driving Barbie's global sensation.
From Toy Manufacturing to IP Management
Let's take a step back from the movie frenesi and dive into the groundbreaking strategy behind it. Mattel, the iconic toy manufacturer, set in motion a truly full funnel approach, transforming its product sales and creating an immersive cinematic universe. This shift from toy manufacturing to IP management catapulted Barbie into a league of her own- and it is only the first of 15 movies Mattel has agreed to make based on its toys.
Full Funnel Strategy that Ignited a Global Sensation
The journey began with a groundbreaking teaser poster, which evolved into the innovative Barbie Selfie Generator and TikTok filter, sparking a global sensation and amassing 6 million social media engagements within six months. This set the tone for what was to come—Barbie's cultural impact was undeniable.
Fast forward to the present, and Barbie's hype is unstoppable, conquering every consumer touchpoint from music to memes, games to augmented reality. Mattel's stock price surged 20% in 2023, and shares rose 15% over June and July. Even Barbie dolls experienced a 25% value surge. Beyond the silver screen, Barbie has become a cultural phenomenon, transcending the boundaries of traditional marketing.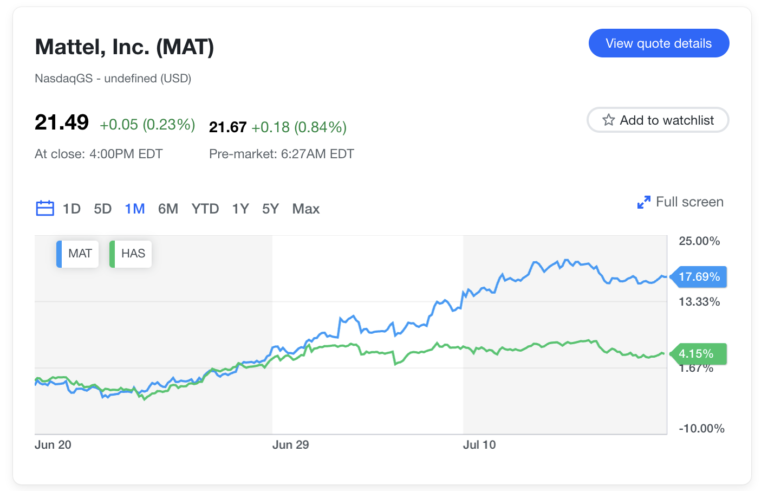 This comprehensive approach has made Barbie's brand collaborations pop. Over 100 prominent brands joined forces with Barbie, leading to thrilling cross-promotions that amplified her reach beyond expectations. Xbox went all-in with a Dreamhouse-inspired gaming console, while Pinkberry served up delectable Barbie-themed frozen yogurt flavors. From Ruggable collections to OPI nail colors, the Barbie magic was everywhere, captivating hearts and wallets.
Margot Robbie and director Greta Gerwig embarked on a global tour, thrilling fans with personal interactions. But the hype is not built only by the Macros: Micro-influencers, like Washington, D.C.'s beloved Barbie Pond, added a local touch followed across small and bigger cities.
Experiential marketing became the heart of the campaign, with Airbnb listing "Barbie's Malibu Dream House," letting fans live out their dreams in pink paradise. The "World of Barbie" pop-up, with its life-sized camper van, space station, and music studio, created an Instagrammable frenzy.
Mattel's full funnel approach left no stone unturned, and offline marketing played a significant role in the campaign's success. The clever Barbie billboard stunt was a masterstroke of out-of-home (OOH) marketing that generated phygital buzz for the movie.
In the midst of it all, Barbie's star-studded soundtrack united big and small international artists from Colombia, the UK, South Korea, and beyond. The infectious tunes resonated globally, adding even more sparkle to the phenomenon.
The clash with Oppenheimer at the box office ignited a fan-driven debate and meme frenzy, fueling the excitement surrounding Barbie's premiere. This blockbuster clash showcased the power of fandom and engagement.
Amidst it all, Mattel seized the opportunity to address past controversies, presenting a more inclusive and empowering world. Barbie's brand repositioning struck a chord with audiences, old and new, fostering a positive brand image.
This marketing triumph is more than just a movie. It's a blueprint for success—a full funnel strategy that captivated the world.  At GLAD TO BE, we're inspired by Mattel's groundbreaking approach, and we're ready to help you create your very own marketing sensation.
Full Funnel

: Shift to a comprehensive strategy that engages consumers at every touchpoint, from teasers to post-purchase experiences.

Ride the Meme Wave:

Tap into meme culture to create buzz and spark social media engagement, no matter your brand's size.

Collaborate for Impact:

Forge strategic partnerships to extend your reach and create exciting cross-promotions that captivate audiences.

Create Memorable Experiences:

Design immersive offline and online encounters to generate social media buzz and deepen connections with your brand, blurring the lines between traditional spaces and digital conversations. 

Soundtrack for Success:

Invest in music and art to amplify your brand's appeal globally by collaborating with diverse artists.

Engage Your Fans:

Spark excitement and anticipation by encouraging fan-driven engagement and debates.

Embrace Inclusivity:

Address controversies, be inclusive, and resonate with an audience that is making brands accountable for social matters.

Capitalize on Buzz:

Leverage competitive moments for increased visibility and success, using real-time data to optimize marketing efforts and drive results.

Seek Expert Guidance:

Partner with marketing experts like GLAD TO BE to navigate the complex landscape of full funnel strategies and unleash the full potential of your brand, staying ahead in the ever-evolving world of tech-driven sales and marketing.
Contact GLAD TO BE and unlock the full potential of your brand with our expert guidance.
We're more than just a marketing agency.
We're your strategic imagination. We offer solutions, not services.